As an entrepreneur, you often spend a significant portion of your day learning by consuming content. For a lot of us, you learn as you go and you're constantly seeking out new resources because your business and the state of your industry is always evolving.
Whether it's a business blog, a podcast, a community you're part of or a new course, you consume with the intention of applying your learnings to your business. But what happens with all that information? It's impossible to apply every tidbit you learn to growing your business (…unless you're a robot), and let's be honest for a second here: We've all spent some time reading work-relevant blogs or magazines to put off an undesirable task on our to do list.
If your creative business is getting the way of achieving balance in your life, you need a learning strategy. Don't worry, this is easy! It's a mindset shift about content consumption that streamlines what you learn and helps you identify actionable ways to improve your business.
Block off an hour a day for learning. This ensures you're staying up to date on trends in your space but limits the time spent so it doesn't spill over into work time. Put on a podcast, catch up on your blogs or do a module in an e-course you're taking. It all counts.  You can even split this window up, but it's important to schedule it into your day.
Block off 15-30 minutes a day for doing. This is key. You're not just making a list of something to do eventually – in order to benefit from what you've learned and limit information overload, you need to take one or two insights that you've picked up and apply it to your business that day.
Revisit your goals. Before you implement your learnings, you want to make sure they support your business goals. Think of 3-5 goals you're reaching for with your business. Take some of the ideas you want to implement and compare them to your goals. Do they support your goals? Will they help you get closer to achieving them? If you can't find link, it may not be the best use of your time. Remember, if you want balance in your life, you need to be strategic about where you spend it in your business.
 Do. Break it down into smaller tasks if you need to. The only way you'll know if something works for your business is if you do it. Get into the habit of optimizing your business a little every day, so you don't fall behind and have more work to do down the road.
Download the very same worksheet I use to action what I learn on a daily basis!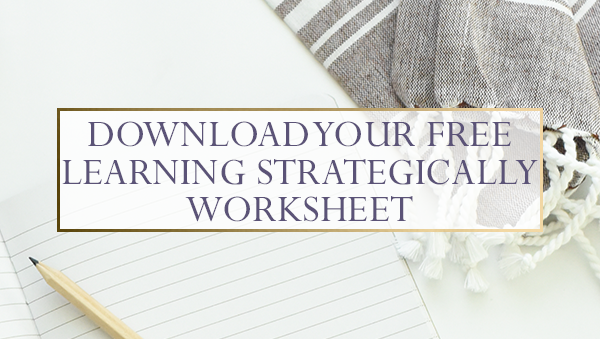 If you're thinking that's a lot of time to spend, I encourage you to give it a try for one week. I suspect one of two things will happen: 1) You'll spend more time getting things done and less time scrolling through blogs and social media or 2) You'll find yourself inspired by new ideas and see new potentials for growth in your biz.
I'd love to know what you think of this approach! Tell me in the comments below or send me a note!